July 5, 2023
The Justice and Perinatal Equity Services (JEPS) Cluster is hosting the next installment of their speaker series. 

We invite you to join the seminar on 

July 24th, 2023 at 12:00PM PST 

for a presentation from Dr. Crystal Clark

 (She/Her). 
You can register for the seminar 

here

.
Image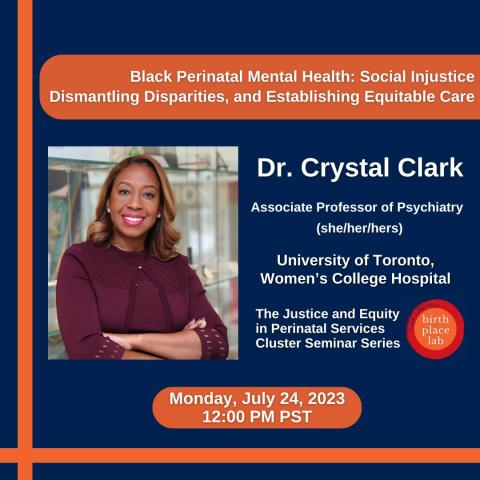 During the program Dr. Clark will:
Address current data and gaps in research on disparities in black perinatal mental health in the U.S. and Canada.
Discuss strategies for developing equitable Black perinatal mental health care in Canada.
About the Speaker
Crystal T. Clark, MD, MSc is an Associate Professor in the Department of Psychiatry at the University of Toronto. She is also a scientist at Women's College Research Institute and serves as the Associate Head of Research at Women's College Hospital. As an adult psychiatrist, Dr. Clark specializes in mood and anxiety disorders and is internationally recognized for her expertise in the treatment of women's mental health across the reproductive life span (i.e., menstruation, pregnancy, postpartum, infertility, trauma related to reproduction). Dr. Clark's research aims to develop identification and prevention strategies to optimize perinatal mental healthcare for populations who are marginalized and/or have severe mental illness. Her novel research in psychopharmacology aims to establish personalized dosing algorithms that accounts for metabolic and genetic differences for pregnant and postpartum women bipolar disorder. In her efforts to increase equity she is committed to studies to characterize, develop, and increase prevention intervention strategies that address Black perinatal mental health and reduce disparities.
About the Presentation
Perinatal mood disorders impact as much as 20% of the population. Although some studies suggest that as much as 50% of Black birthing people will experience a postpartum mood disorder, current evidence has been limited mostly to studies in the United States and by studies of homogenous groups that don't account for the diversity among the Black community and fail to adequately address structural and social determinants of health in the analysis. In this seminar, Dr. Clark will present current data on Black maternal mental health, as well as the associated research gaps. She will discuss social injustice, characterizing Black maternal mental health in Canada, and future steps toward equality for Black maternal mental health.
---