Downloadable Information Sheets
I Want a Healthy Vaginal Birth
Highlights information about prenatal care to improve the likelihood of a healthy vaginal birth and positive birth experience.
Having an Epidural
Provides information about managing pain during labour and epidural use.
Vaginal Birth After Cesarean (VBAC) in BC
Describes risks and benefits of vaginal birth after cesarean (VBAC) using statistics from BC over the past 10 years.
When Labour Starts
Explains what early labour is, what to expect, what to do, and when to call a doctor or midwife and go to the hospital.
Pamphlets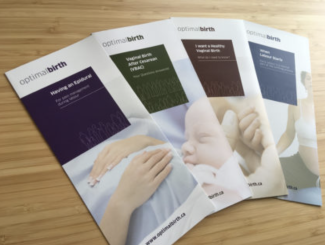 Evidence based pamphlets for patients are available for your clinic or office.
Please contact us for complimentary copies for your perusal. 
Additional pamphlets can be ordered at $0.35 each (to cover our printing costs), plus shipping. We ship via Canada Post.