WEBINAR: Early Labour Research
May 17, 2023, 8:00 am to 9:30 am
On May 17th 2023, The Cluster for Advancing the Science of Physiologic Birth at the University of British Columbia, Canada hosted the Early Labour Webinar, a research showcase related to early labour, assessment and care.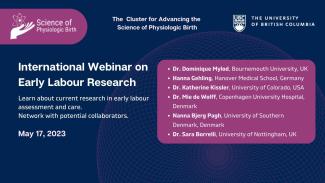 The six presenters included Dr. Dominique Mylod from Bournemouth University (UK), Hanna Gehling from Hanover Medical School (Germany), Dr. Katherine Kissler from University of Colorado Anschutz (USA), Dr. Mie de Wolff from Copenhagen University Hospital (Denmark), Nanna Bjerg Pagh from University of Southern Denmark (Denmark), and Dr. Sara Borrelli from University of Nottingham (UK). 
Please find below the various topics that were delivered during the webinar: 
Dr. Dominique Mylod: Using a birth ball in the latent phase of labour to reduce pain perception. 
To download Dr. Sara Borrelli's presentation: Mothers and midwives' perspectives on the potential use of video-calling during early labour in the United Kingdom and Italy, click here. 
To download Dr. Mie de Wolff's presentation: Exploring the concept of early labour and its association with labour interventions, outcomes and patient experience, click here.
To download Dr. Katherine Kissler's presentation: Pilot prospective study of biomarkers and symptoms of latent labor, click here.
Stay tuned for future webinars and events hosted by the Science of Birth Cluster!
---